Un navire navrant, l'épopée du Burdigala
A heartbreaking ship, the epic story of the S/S Burdigala
Chapitre 3 / Chapter 3
Et soudain, l'espoir revint... / And suddenly hope came back...
Il y avait 10 ans maintenant que le S/S Kaiser Friedrich rouillait, amarré contre un quai du port de Hambourg. Au fil du temps le navire était devenu une sorte de mascotte pour la ville; des cartes postales en furent même éditées qui attestent encore de la paradoxale popularité du navire malaimé.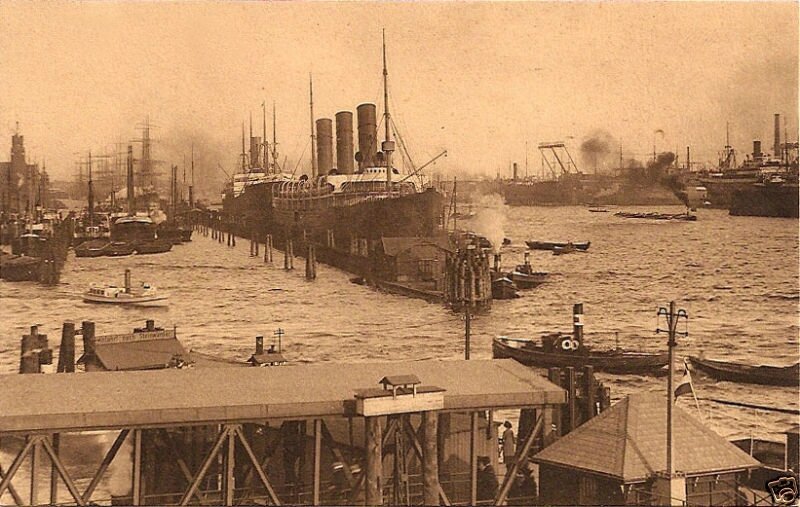 Car rarement paquebot aura été aussi malaimé que le fut le S/S Kaiser Friedrich. Malaimé d'abord par ses premiers affréteurs de la Norddeutscher Lloyd, vite excédés par l'incapacité du navire à atteindre, ou même à approcher, la vitesse contractuelle minimale de 22,5 noeuds. Malaimé ensuite de son propriétaire et concepteur, les chantiers Ferdinand Schichau de Danzig dont le navire avait durablement terni la réputation, incapables qu'ils avaient été d'en faire un coursier; incapables aussi de s'en défaire auprès de la HAPAG au sein de laquelle il semblait pourtant avoir parfaitement et rapidement trouvé sa place. Pourtant sa vitesse oscillant entre 19 et 20 noeuds était à pareille époque de nature à satisfaire pratiquement toutes les compagnies de navigation, quelle qu'ait été leur destination de prédilection. Ses aménagements intérieurs luxueux le classant par ailleurs au rang des plus beaux et des plus confortables navires au monde. Mais le scandale qui avait entouré son rejet par la Norddeutscher Lloyd, et le désistement final de la HAPAG avaient durablement entâché sa réputation et pour tout le monde il était devenu une sorte de mistigri.
It had been 10 years now that the S/S Kaiser Friedrich was rusting, moored along a quay in the harbor of Hamburg. Over time the ship had become a sort of mascot for the city and postcards were even published which still attest of the paradoxical popularity of the unloved vessel.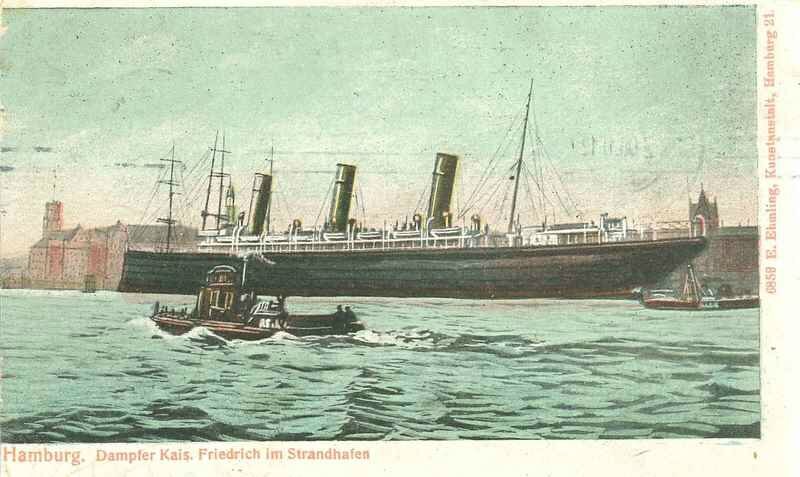 Rarely a liner had been as unloved as the S/S Kaiser Friedrich was. First unloved by her first charterers of the Norddeutscher Lloyd, quickly angered by the failure of the ship to reach, or even come close to, the minimum contract speed of 22.5 knots. Then unloved by its owner and designer, Ferdinand Schichau shipyards whose vessel had sustained a tarnished reputation; they were unable to make her a racer, as they were unable to sell her to HAPAG company at which she seemed to have yet perfectly and quickly found her place. Yet her oscillating speed between 19 and 20 knots at the same period was likely to satisfy almost all shipping companies, whatever their destination choice. Her luxurious interiors also classifyed her among the most beautiful and most comfortable ships in the world. But the scandal that surrounded her rejection by the Norddeutscher Lloyd and the final withdrawal of the HAPAG had permanently tarnished her reputation and she had become a kind of mistigri to everyone.
Tout semblait concourir à ce que le Kaiser Friedrich finisse ferraillé après n'avoir vécu que quelques mois d'une carrière au parfum rémanent de scandale lorsqu'une lueur d'espoir se fit jour, et elle vint du nord. Nouvellement créée, la compagnie Norwegian-America Line dont l'objectif était d'établir un service pérenne de transport de passagers et du courrier entre les Etats Unis d'Amérique du Nord et la Norvège, était en effet à la recherche de capitaux afin de démarrer son activité. (Nous aurons sans doute l'occasion de reparler un jour ou l'autre de cette compagnie puisqu'elle fut l'ordonnatrice du paquebot Bergensfjord qu'elle céda en 1971 à la Compagnie Générale Transatlantique, laquelle le rebaptisa De Grasse.) Du reste, même si elle avait disposé d'un capital de départ suffisant, la compagnie ainsi nouvellement créée n'aurait pu disposer de navires neufs et de bonne capacité avant au minimum une voire deux années. Aussi, trouvant là une situation propre à satisfaire de mutuels intérêts, les chantiers de Danzig firent une proposition à la Norwegian-America Line : les chantiers Ferdinand Schichau devenaient actionnaire de la Norwegian-America Line et s'engageaient à fournir à la compagnie tous les capitaux dont elle aurait besoin. En contrepartie, la compagnie devrait s'engager à acheter le Kaiser Friedrich. La proposition sembla alléchante à la jeune compagnie qui lui permettait tout à la fois d'ouvrir rapidement sa ligne avec un navire confortable et de fort tonnage, et de poursuivre en parallèle la mise en chantier de nouvelles unités. Les pourparlers se déroulèrent sans anicroche et il fut décidé que le Kaiser Friedrich serait rebaptisé S/S Leif Eriksson, du nom du premier européen à avoir foulé le sol du continent nord américain entre la fin du Xe et le début du XIe siècle, selon les chroniques scandinaves.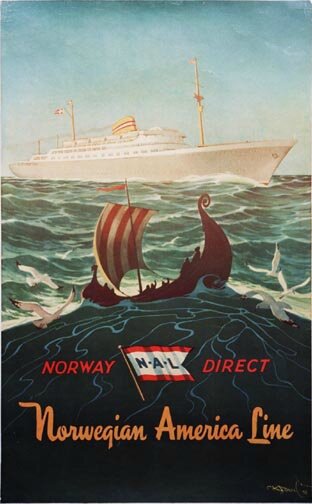 Everything seemed to concur that the Kaiser Friedrich would eventually been scrapped after having only lived a few months of a career stained residual whiff of scandal when a glimmer of hope appeared, and it came from the north. Newly created company Norwegian - America Line whose objective was to establish a permanent service carrying passengers and mail between the United States of America and Norway, was indeed looking for capital to start its activity. (We will probably have an opportunity to talk about this one day or another since the company was the one ordering the liner Bergensfjord sold in 1971 to the Compagnie Générale Transatlantique who renamed the ship S/S De Grasse.) Moreover, even if she had disposed of a sufficient capital to start, a newly created company could not have new ships and good capacity for at least one or two years. Also, seeing there a situation able to satisfy a mutual interest, Danzig yards made a proposal to the Norwegian - America Line : Ferdinand Schichau society became shareholder of the Norwegian - America Line and undertook to provide to the company all the capital she would need. In return, the company should commit to buy the Kaiser Friedrich. The proposal seemed attractive to the young company which enabled her at once to quickly open the line with a comfortable and important tonnage ship, and continue in parallel the construction of new units. The talks took place without a hitch and it was decided that the Kaiser Friedrich would be renamed S/S Leif Eriksson, after the first European to set foot on the North American continent from the late tenth and early eleventh century, according to Scandinavian chronic.
Qu'est-ce qui poussa la jeune compagnie norvégienne à faire machine arrière ? Fut-elle finalement refroidie par les antécédents et la réputation du navire ? Son état lui fit-elle craindre d'avoir à consentir de trop lourds investissements en rénovation pour un navire par ailleurs déjà âgé de 11 ans ? Toujours est-il qu'au dernier moment, la Norwegian-America Line renonça à l'accord proposé par la société Ferdinand Schichau, et le Kaiser Friedrich demeura amarré à son quai. Pourtant l'espoir était revenu de le voir un jour reprendre la mer. Il ne s'éteindrait plus.
What pushed the young Norwegian company to backtrack ? Were they cooled by the history and reputation of the ship ? Did her condition scared them of having to make heavy investment in renovation for a ship which was already 11 years old ? Still, at the last moment the Norwegian-America Line renounced the agreement proposed by Ferdinand Schichau society and Kaiser Friedrich remained moored to her quay. Anyway, hope had returned for the ship to take the sea again one day, and it will be extinct no more.
A suivre...
To be continued...
La semaine prochaine, Un navire navrant, l'épopée du Burdigala, 4e chapitre.
Next week, A heartbreaking ship, the epic story of the S/S Burdigala, chapter 4.